Hi All,
Welcome to my first Make-Up Tutorial Vlog for a "Fresh and Modern Smokey Eye" look.
This is a great look for a night out as no retouching is required and it will last all day and night. To keep this look very modern it's important to keep the skin fresh and not too matte looking. There are no rules so if you prefer a strong lip go for it!
Today I kept this look ultra simple using only the minimum amount of products. On the eyes I used a charcoal grey blended into a soft brown keeping the eyes matt and a soft pink glossy lip to finish the look, making it very pretty.
It's a super easy look to follow and great on all ages. So why not try it using similar products you have at home, you will be surprised at how easy it is and how flattering it looks.
Siobhan xx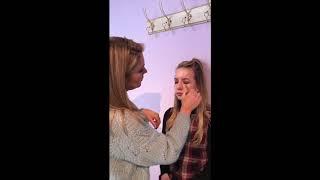 ​​SMLXL
Products used for this look :
Face Primer smooth affair Jane Iredale for oily skin Foundation MAC face and body C1 Concealer Laura Mercier SC3 Under eye concealer circle delete no 1 Jane Iredale Studio fix powder by MAC nc20 Contour MAC mineralise skin finish in medium tan Blush dainty MAC Highlighter mineralise skin finish soft and gentle by MAC
For the eyes Base prolongwear groundwork Jane Iredale black eye pencil MAC eyeshadow concrete on lid MAC eyeshadow charcoal brown and kid in socket
On lashes J
ane Iredale mascara longest lash jet black And finished off with individual Ardell lashes in medium
Brows
Anastasia brow powder in ash blond
Lips Jane Iredale lip pencil in nude Mac lipgloss in ample pink