Why I workout - BODYCYCLE style
I can give you all the benefits of BodyCycle, and I will (see below)... but the real reason why I teach BodyCycle is because it makes me feel AMAZING!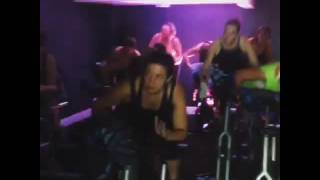 ​​
I don't know what your daily schedule is like but I am a busy bee, so if I'm going to workout, it's going to be something that takes my breath away, a workout that makes me feel good and then obviously the perk is that I'm getting fitter and healthier in doing so.
BodyCycle gives me 45 minutes to leave all my stress at the door; the room is dark, all my insecurities are hidden, the music is blaring and it is just some personal time where my brain must focus on losing myself in the music, and for me, getting lost in a positive, happy, inspiring environment is the best type of workout I could look for.
I'm the type of person who loves a challenge, BodyCycle is a challenge, it's hard to participate in and it's hard to teach! It. Is. Hard. When something is hard, it becomes even better when you kick it's ass! The feeling of excitement I get when I look at 19 BodyCyclists in front of me, all in sync, all getting lost in their own bodies, feeling good, focusing on the beat, concentrating on themselves and glowing because they know how brutal they were in their first class and how awesome they've become, it's just brilliant.
BodyCycle is a journey, the fear of the unknown, oh yes, we've all done spinning... BodyCycle is NOT spinning, it is more like... 'dancing on the bike' (and for the record, I CANNOT dance, so you don't have to be a good dancer to be a good BodyCycler). Our playlists consist of all types of genres, and our routines are full body, using your upper body to get that toned, lean, strong look. After our cycling phase, we move onto isolating your upper body by performing some upper body exercises with some dumbbells (don't be fooled by the small dumbbells... your arms will still want to fall off!!)
The most popular part of a BodyCycle class is our last track - INNER CYCLE. This is where the instructor stops talking and the lights go fully off. You have 3-minutes to focus on yourself, to appreciate how far you've come, how were you've trained and to be proud of yourself. It's your time to let go of anything that you need to release in your life. You choose your cycle, whether it's a sprint, a climb, upper body routing, using your dumbbells or simply just cycling... it's your time, for you, no one else.
We are training BodyCycle here at The Gym Howth over a year now and as a community we have completed one BodyCycle Marathon and have our second one on December 3rd, 2016. A BodyCycle Marathon is taking BodyCycle to a whole new level - we literally BodyCycle for 3-hours. Yes, that's correct, 3-hours. It takes a lot of training and a lot of mental stamina to complete three hours, so well done to everyone who has completed one or who is going to do one in the future with me :)
Our September Marathon was BodyCycled for The Irish Cancer Society - and all in (bodycyclists and all friends of the gym) we raised €3'424.27 (which was in the top 1% of highest fundraisers in September!).
On December 3rd, we'll BodyCycle for DePaul - Homeless Charity and I'm optimistic that we'll smash that too! If you would like to donate, please click here:
https://give.everydayhero.com/ie/bodycycle-marathon-the-gym-howth
I have booked in 4 BodyCycle Marathons for 2017, the charities we'll BodyCycle for will be;
- Make A Wish Foundation
- CRY
- Breast Cancer
- Focus Ireland
To register for a marathon, click here:
https://clients.mindbodyonline.com/classic/admhome?studioid=153559
I hope you come join us in BodyCycle, but make sure that you do at least 3! Trust me! Do three! I promise, you'll love it!
Erica xx
​​
Benefits of BodyCycle;
1. Health: Pushing yourself in BodyCycle not only increases your lung capacity (basically
making them work more efficiently at everything they do!) but it also has a huge impact on
your heart. BodyCycle (and other aerobic activity) will push your heart, forcing it to adapt
and become better at pumping blood around your body.
2) It's for everyone; BodyCycle is completely adaptable to suit all fitness levels and abilities. If you have an injury or illness, this class can be flexible to suit your needs. The class is also low impact, which
means it puts little to no pressure on the knees or other joints making it perfect for anyone
with problems in these areas. Just talk to a trainer before class and they can explain how to
change it up to suit you.
3) The Music; If any of you have done a BodyCycle class in Thy Gym Howth you'll know exactly what I
mean by this…. I'm not saying us trainers have the ULTIMATE taste in music but we change it
up every couple of weeks and are always open to suggestions from clients. Some people come to a BodyCycle class for the music alone!!
4) Toning; BodyCycle is an all over toning work out. From your legs right up to your shoulders, you
work every inch of your body in this class. Combining weight training with aerobic and
anaerobic activity on the bike, you're burning fat and toning muscle at the same time.
Definite win-win.
5) IT'S FUN!!!; Exercise doesn't need to be painful and boring to be effective. The most important thing is
that you enjoy what you do. BodyCycle is in a dark room (no one looking at you) with loud
music (no one to hear you panting) and a motivational instructor at the top of the room
encouraging you to give the workout everything you possibly can! I challenge you to come to
one of these classes and not leave with a smile on your face!