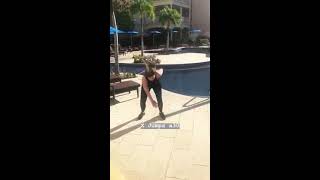 ​​SMLXL
The famous question:
"How do I not ruin it all on holidays?"
Holiday's are essential for you to keep a healthy body and mind; they help you relax, and in turn lower your cortisol levels (cortisol is a hormone that can majorly hold onto fat), they help you think clearer (you always come back with fresh eyes), they help you switch off (letting go of the stresses of work and the ebbs and flows of life) and of course, holidays are all about having fun - and well, isn't that what life is all about!
I can only speak for myself, but I feel RUBBISH if I change my entire diet and just stop training, do you get like that?
My diet is and has been for years;
- High Water
- Low Carbs
- High Veggies + Protein
- Low Sugar
- High Intensity Training (classes and personal workouts)
- Low Stress levels (this is the one I struggle the most with).
So, when I used to head off on holidays and start eating; high carbs and sugar, low veggies, water and low workouts. The result is;
I. LOOK. 6-MONTHS. PREGNANT!
And although that is a beautiful look, it's not ideal when you're not actually pregnant....!
Considering, I watch my diet and train hard, all year round, I feel that being on holidays is when I can chill and let loose a bit more - but only to the stage that I still feel good and still feel like myself.
On holidays:
- I eat a small breakfast (we all overeat on holidays)
- I always have a coffee (helps with digestion)
- I will get 4 litres of water in every day
- For lunch, it will always be a salad (and mainly no carbs)
- I do not drink before 5pm
- I only drink gin + tonic water or Prosecco (no yeast, low sugar)
- I never have desserts and if you are a dessert person, have one every second night
- I will eat pasta and pizza, but every second night as I'll feel so bloated otherwise
- I treat myself with homemade things, so like a Almond Croissant (they are extremely under-rated and are the nicest things in the entire world), rather than a chocolate bar.
These are only small things that I have implemented over the years - but they prevent me from coming home feeling really terrible about myself. I HATE HATE HATE the feeling of having worked so hard for months and then blowing it in 7-days. Is it worth it? For me, NO!
We are humans, we don't need to reward ourselves with food. A holiday isn't amazing because you ate sh**e all week - is it? Reward yourself, by feeling good about yourself! Read, swim, chill, eat foods that you love and make you feel good!
I believe that if you workout - then you workout. After time and consistency, it becomes who you are, so why change who you are when you go on holidays.
Working Out:
I like working out.
I feel good when I have worked out.
I look good when I have worked out.
My mood is good when I have worked out.
These are 4 seriously good benefits for me to work out. So, I cut out the excuses of "the gym is too far away" or "I have no gym gear"... and follow some high intensity programs that need ZERO equipment! They are 20-minute workouts - yes, 20-minutes - DO NOT TELL ME YOU CAN'T PUT 20-MINUTES ASIDE 3-days out of 7?!
Every day this week, I will upload a holiday workout to our Instagram, YouTube and Facebook page - they'll always be online, so throw your lululemon and runners in your case - they're coming!
Have a happy healthy holiday, Erica xx
PS. If you want me to email you the workout directly - message me; erica@thegymhowth.com